Metrotank is a Decepticon from the Zone portion of the Generation One continuity family.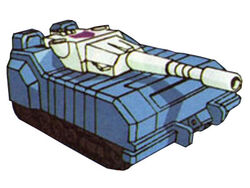 Metrotank is a sentient tank, and a member of the Metrosquad. The only member of the squad who lacks a robot mode, he is nonetheless extremely powerful, but also has a very short temper. Winning combination, right there.
Fiction
Zone story pages
Metrotank was recruited into the Metrosquad by Metrotitan. His first mission was to attack the Autobot lunar colony commanded by Rabbicrater.
Toys
Zone
Metrotitan (Decepticon, 1990)
Japanese ID number: D-340
External links
Ad blocker interference detected!
Wikia is a free-to-use site that makes money from advertising. We have a modified experience for viewers using ad blockers

Wikia is not accessible if you've made further modifications. Remove the custom ad blocker rule(s) and the page will load as expected.