Mirdane is a Quintesson in the Generation One continuity family.
Mirdane was an ancient Quintesson who was banished into another dimension by his comrades for being a criminal. The exact nature of his crime—and his body type—is unknown.
Fiction
Cartoon continuity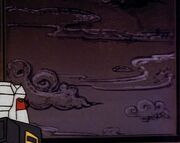 After the Autobots discovered the secret chamber in Planetary Corridor CB311B4, Rewind examined the heiroglyphics and learnt that the room was used by the Quintessons to banish their criminals to other dimensions. The writings on the wall said that Mirdane was banished to a dimension without substance. Madman's Paradise
Further information in this article is coming soon as it pertains to information that has only recently been released to the Fan Club.
See the relevant policy page for the reasons why, and do not add further information pending review.
Notes
Mirdane is never seen, only mentioned. Poor guy.
Ad blocker interference detected!
Wikia is a free-to-use site that makes money from advertising. We have a modified experience for viewers using ad blockers

Wikia is not accessible if you've made further modifications. Remove the custom ad blocker rule(s) and the page will load as expected.