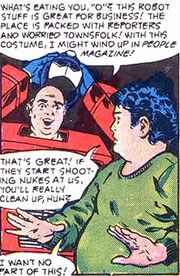 Mr. "O" is a human in the Generation One continuity family.
Mr. "O" is the father of Buster Witwicky's best friend "O". He runs a diner in Portland, Oregon, called Mister "O"'s.
Fiction
Marvel Comics continuity
When the Transformers make their presence known on Earth, Mr. "O" puts on an Optimus Prime costume to attract reporters and customers to his business.
We were never told what the "O" stands for.
Ad blocker interference detected!
Wikia is a free-to-use site that makes money from advertising. We have a modified experience for viewers using ad blockers

Wikia is not accessible if you've made further modifications. Remove the custom ad blocker rule(s) and the page will load as expected.