Monster from Mars is a story within a story. In G1, Monster from Mars is live-action flim directed by Rollie Friendly and produced by Friendly Studios.
Main Cast
Plot synopsis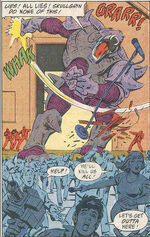 Little is known of the plot of the film, only that it portrays leading man Skullgrin as the villain of the piece,[1] pitted against Brick (Colton), who is attempting to save Celestia (Carissa Carr) and win her heart.[1] Portions of the script known indicate Skullgrin may be playing several monsters, not just an individual.
Viral tie-ins
The movie appeared to begin production as the uninspiring Creepozoids of the Crab Nebula, but it appeared that was simply a cover to keep Skullgrin's involvement a secret. The marketing campaign came to a head with news of 'Big Foot' sightings in North Carolina which were in fact the star Skullgrin. "Skullgrin Mania" arose, and after a dramatic beauty and the beast moment, the production moved to the Grand Canyon to keep to the rigorous shooting schedule.
Current status
It is not known what the current status of production is of the film—rumours have circulated of involvement of the mysterious giant robots, and that the film will never be completed due to the destruction of large parts of the film and equipment.[1]
References
Ad blocker interference detected!
Wikia is a free-to-use site that makes money from advertising. We have a modified experience for viewers using ad blockers

Wikia is not accessible if you've made further modifications. Remove the custom ad blocker rule(s) and the page will load as expected.