NAVI is a Maximal computer from the Beast Wars Neo portion of the Generation One continuity family.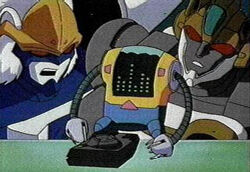 NAVI is the NAVI AI for Big Convoy's ship, the Gung Ho. It is virtually identical to NAVI-chan, save for having different colors for her LED body.
Fiction
Beast Wars Neo cartoon
Voice actor: Kaori Tagami (Japanese)
Ad blocker interference detected!
Wikia is a free-to-use site that makes money from advertising. We have a modified experience for viewers using ad blockers

Wikia is not accessible if you've made further modifications. Remove the custom ad blocker rule(s) and the page will load as expected.