Ad blocker interference detected!
Wikia is a free-to-use site that makes money from advertising. We have a modified experience for viewers using ad blockers

Wikia is not accessible if you've made further modifications. Remove the custom ad blocker rule(s) and the page will load as expected.
NTV is a Japanese television network in the Masterforce portion of Generation One continuity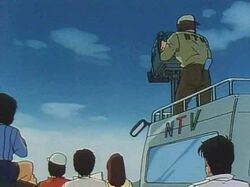 Masterforce cartoon
Edit
NTV was (superlatively) covering the Mt Fuji Foothills Hang Gliding Competition Tournament when the Decepticon Blood attacked it. Blood was showing off his skills for the newly arrived Godmasters Hydra and Buster by attacking hang gliders in mid-air with precision strikes. Super Warriors - The Godmaster Brothers
NTV got great footage.