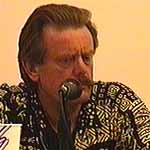 Neil Ross is an American voice actor (though born in the UK). He is best known for several roles, including Hector Ramirez from G.I. Joe, Inhumanoids and Jem & the Holograms, Inexplicably Australian Wolverine from Pryde of the X-Men, Keith from Voltron, Rambo from Rambo the Animated Series and, fittingly enough, Han Solo in various Star Wars video games. He even played Clyde on the Pac-Man animated series.
Generation One
External links
Ad blocker interference detected!
Wikia is a free-to-use site that makes money from advertising. We have a modified experience for viewers using ad blockers

Wikia is not accessible if you've made further modifications. Remove the custom ad blocker rule(s) and the page will load as expected.