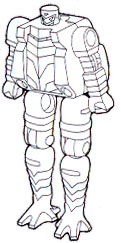 Nightscream is a Mini-Con from the Energon portion of the Unicron Trilogy.
Nightscream is one of the two Mini-Con partners of the Decepticon Rapid Run. He helps Rapid Run "disguise" himself as an Autobot.
Further information in this article is coming soon as it pertains to information that has only recently been released to the Fan Club.
See the relevant policy page for the reasons why, and do not add further information pending review.
Toys
Energon
Nightscream also forms the upper half of Nightcreeper with Nightcruz.
Notes
NIghtscream is incorrectly identified as a Decepticon on his packaging.
External links
Ad blocker interference detected!
Wikia is a free-to-use site that makes money from advertising. We have a modified experience for viewers using ad blockers

Wikia is not accessible if you've made further modifications. Remove the custom ad blocker rule(s) and the page will load as expected.