This article may require cleanup to meet the quality standards of Teletraan I: The Transformers Wiki.
Please discuss this issue on the talk page or append this tag with a more specific message.
This article has been tagged since May 2007.

{{{2}}}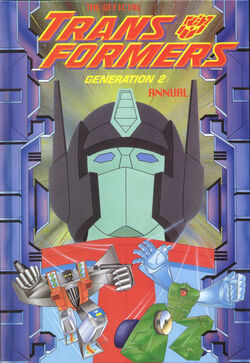 The Official Transformers Generation 2 Annual was published in the UK in 1994
Theirs is now a secret war, played out under the cover of shadows, unnoticed by all by the highest of human authorities, a conflict as endless now as it was eons ago. -Introduction
Content
Day of the Decepticons
The Dinobots
Moving Day Planet Earth
Notes
The G2 annual seemed to occupy its own strange continuity where the Transformers awoke on Earth in 1994, and Megatron's Generation 2 'tank' form was his first body on Earth.
Ad blocker interference detected!
Wikia is a free-to-use site that makes money from advertising. We have a modified experience for viewers using ad blockers

Wikia is not accessible if you've made further modifications. Remove the custom ad blocker rule(s) and the page will load as expected.