The name or term Oracle refers to more than one character or idea. For a list of other meanings, see Oracle (disambiguation).
The Oracle Tank is a location in the Dreamwave portion of the Generation One continuity family.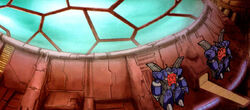 The Oracle Tank is a location within the chambers of the Council of Ancients in the city-state of Iacon. It is believed by the Council members to be a means to communicate with the Vector Sigma mainframe, and the consciousness they assert resides within it. As such, it is often used to test the mettle of potential Primes.
Fiction
Dreamwave Comics continuity
Optronix communed with the Oracle Tank before ascending to the rank of Prime, though he doubted the Ancients' claims that it was sentient. The War Within
Sunstorm would later claim to be on a holy mission for the Oracle. This might have been genuine, as Shockwave's meddling with Vector Sigma had alerted Unicron to the location of Cybertron. However Sunstorm's programming was so addled by the dump of Vector Sigma's data banks that he proved to be less than stable. Black Sunshine
Ad blocker interference detected!
Wikia is a free-to-use site that makes money from advertising. We have a modified experience for viewers using ad blockers

Wikia is not accessible if you've made further modifications. Remove the custom ad blocker rule(s) and the page will load as expected.