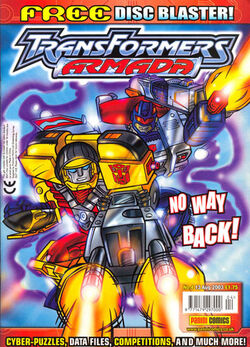 The comic book Panni Armada issue 4 contains multiple stories or features.
Panni Armada issue 4
Contents
No Way Back! (comic, 7 pages)
Awaken the Mini-Con! (puzzle)
Data File #7: Hot Shot
Megatron Power Poster
Data File #8: Jolt
Tales of the Mini-Cons... Into the Lion's Den! (comic, 7 pages)
Credits
Free Gift
No Way Back!
Optimus Prime attempts to send the Mini-Cons to Cybertron for safekeeping.
Synopsis
Despite the misgivings of both the humans and the Mini-Cons, Optimus Prime has decided to send Sparkplug Jolt, Longarm, Highwire, Grindor and Sureshock to Autobase: Cybertron for protection rather than allow them to be drawn into their war with the Decepticons.
However, Megatron has no intention of letting his ambulatory joy-juice slip through his fingers, and attacks the temporary space bridge the Autobots set up. In the confusion, Rad, Carlos and Alexis temporarily trick Megatron into believing the Mini-Cons had exited through the gateway — believing that without them Megatron would leave Earth. When he boasts that he has no intention of leaving until he's enslaved every Mini-Con lost on this world, the concealed Sparkplug has had enough. He Powerlinks to Optimus Prime, declaring his intention to stay and fight with the Autobots. Jolt and Longarm do the same.
Seeing no more tactical advantage in fighting, Megatron destroys the Autobot space bridge, trapping the Mini-Cons on Earth, here, and retreats. He will capture them another day.
Credits
Script: Simon Furman
Pencils: Andrew Wildman
Inks: Bambos Georgiou
Colour: Junior Tomlin
Lettering: Neil Porter

Featured Characters
(Numbers indicate order of appearance.)
Quotes
Errors
Grindor, standing nearest the Space Bridge, vanishes in the long shots.
Items of note
Into the Lion's Den!
The Autobot-allied Mini-Cons attempt to free their Decepticon brethren.
Synopsis
Sparkplug, Longarm and Jolt sneak into the Decepticon base at Silver Ridge, North Dakota. They evade the Decepticon defenses (not built to keep Mini-cons out,) and locate Leader-1, Crumplezone Blackout and Swindle, reasoning that any Mini-Con would prefer to join them rather than the Decepticons.
Unfortunately, this reasoning is faulty. These four Mini-Cons are quite happy to be on what they perceive as the "winning side" and Leader-1 orders their capture, eagerly anticipating the reward he will get from Megatron. Jolt jolts Cruplezone, enabling the Autobot-allied Mini-cons to escape. As they reach the surface, the find an Autobot Shuttlecraft waiting, with Rad inside. He apologizes for not keeping their mission a secret, but is forgiven by Jolt who declares that those guys and the Decepticons deserve each other!
Credits
Script: Simon Furman
Pencils: Lee Sullivan
Inks: Lee Sullivan
Colour: Junior Tomlin
Lettering: Neil Porter

Featured Characters
(Numbers indicate order of appearance.)
Quotes
"Sorry Sparkplug... I know you said to keep this quiet, but key -- this really wasn't the brightest ideas you've ever had!"
—And when Rad says it... you know it was a dumb plan
Errors
Jolt explicitly states that they are dropping by in the middle of the night, but the coloring of the scene indicates it is day.
Immediately after escaping from the mine, Jolt continues Longarm's dialog from the previous panel. (Both lines are probably Jolt's, since he serves as the counterpoint to Sparkplug's view in this story.)
Items of note
The events of this story (break-in to the Decepticon base, rescued by their human backup whose nerve breaks) are loosely analogous to Dreamwave Armada issue 6 and 7, albeit with many elements removed.