Ad blocker interference detected!
Wikia is a free-to-use site that makes money from advertising. We have a modified experience for viewers using ad blockers

Wikia is not accessible if you've made further modifications. Remove the custom ad blocker rule(s) and the page will load as expected.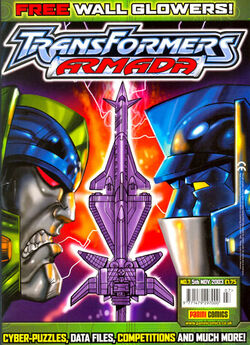 The comic book Panini Armada issue 6 contains multiple stories or features.
Panni Armada issue 7
Edit
The Two-Edged Blade! (comic, 8 pages)
Data File #13: Cyclonus
Star Sabre: The Ultimate Weapon! Power Poster
Meet: The Land Military Team!
Data File #14: Crumplezone
Tales of the Mini-Cons... Sale of the Century! (comic, 6 pages)
Starscream's Hate Mail!
Free Gift
Edit
The Two-Edged Blade!
Edit
Synopsis
Edit
Featured Characters
Edit
(Numbers indicate order of appearance.)
Items of note
Edit
Sale of the Century!
Edit
Synopsis
Edit
Featured Characters
Edit
(Numbers indicate order of appearance.)
Items of note
Edit