Papika is a jungle girl from the Headmasters portion of the Generation One continuity family.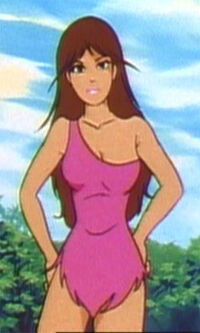 Papika (パピカ pa-pi-ka) lives on planet Paradise and is the daughter of Polonus, the leader of her tribe there. Skilled in combat, specifically with knives, she can also command and ride the native beasts into battle. She seems to prefer soaring through the air on her absolutely gigantic raven.

RTM dub name: Rebecca
Fiction
Japanese animated continuity
Headmasters
Voice actress: Miki Itō (Japanese)
The Decepticons seiged the planet Paradise, intent on converting its natural resources into energy. Half of her people killed, women and children included, Papika was relieved to discover that Raiden and Highbrow, who arrived shortly thereafter, were not members of the Decepticons. After telling her story to Highbrow and introducing the Autobots to her father and her people, she met Daniel Witwicky and Wheelie, the former of whom nurtured a crush. Wheelie was jealous. Wheelie bragged about his ability to transform, demanding his superiority, but Papika countered with her ability to travel on the backs of animals. Wheelie was not impressed.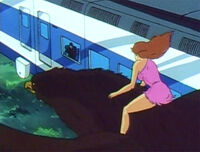 Meanwhile, Highbrow was abducted by Mindwipe, and the Decepticons chained him in front of a waterfall. The Autobots and Papika came to his rescue, and Papika swooped down instantly to try to cut his chains with her knife. After this attempt failed, Highbrow used the remains of his energy to disengage his Headmaster unit and unite with the other Headmaster units in the sky in a circle of friendship which powered them up (no, really), allowing them to drive the Decepticons from the planet.
As the Autobots said their goodbyes, Papika and her father vowed to rebuild their planet better than it was before. Head Formation of Friendship
Ad blocker interference detected!
Wikia is a free-to-use site that makes money from advertising. We have a modified experience for viewers using ad blockers

Wikia is not accessible if you've made further modifications. Remove the custom ad blocker rule(s) and the page will load as expected.