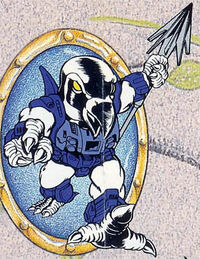 Peguinis is a Beastformer in the Generation One continuity family.
Peguinis is one of the Autobot Beastformers fighting a war on the planet Beest. His role in the Autobot Beastformer forces is an "Ice Field Combatant". He also holds the rank of Emperor of Jonston, on whose south beach he was born, under King Zebra Ball.
English name: Pugnacious Penguin
Toys
Peguinis (Beastformer, 1987)
Beast ID number: 75
Peguinis is an anthropomorphic penguin in high-tech blue armor. He comes with his "Freeze Dryer" spear. He has one of three rubsigns on his chest, revealing the elemental power of fire, water, or wood.
External links