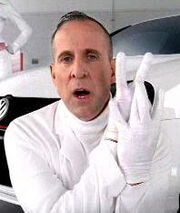 Peter Stormare (born Peter Ingvar Rolf Storm on August 27, 1953) is a Swedish actor known for a number of eccentric roles in American films. He first gained prominence in North America playing the homicidal Gaear Grimsrud in Fargo, and had notable roles in The Lost World, Minority Report (both directed by Steven Spielberg), Armageddon (directed by Michael Bay), and Hamilton. He also portrayed electropop musician/nihilist/adult film star Karl Hungus in The Big Lebowski, which also starred John Turturro. On television, he played John Abruzzi in Prison Break and was featured in a popular series of commercials for Volkswagen, which was "unpimping" tuned vehicles and destroying them to reveal the MK5 Golf GTI. In the realm of voice acting, he played Dracula in The Batman vs. Dracula.
Voice roles
Transformers Animated
External links
Ad blocker interference detected!
Wikia is a free-to-use site that makes money from advertising. We have a modified experience for viewers using ad blockers

Wikia is not accessible if you've made further modifications. Remove the custom ad blocker rule(s) and the page will load as expected.