Pinpointer is a Nebulan Targetmaster partnered with the Autobot Crosshairs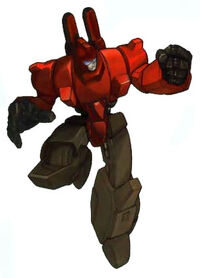 Pinpointer is a Nebulan of few words.[1][2]
He's binary bonded to Crosshairs.[3][4]
Fiction
Marvel Comics continuity
Pinpointer was a biomass recycling engineer on Nebulos.[5]
Note:
Events from the UK-only comic stories are in italics.
Cartoon continuity
Voice actor: Frank Welker (English)
The Headmasters (Japan only)
Dreamwave comics continuity
Pinpointer's pre-Targetmaster role was a police sniper.
Toys
Generation One
Crosshairs with Pinpointer (Targetmaster, 1987)
Footnotes
External links
Ad blocker interference detected!
Wikia is a free-to-use site that makes money from advertising. We have a modified experience for viewers using ad blockers

Wikia is not accessible if you've made further modifications. Remove the custom ad blocker rule(s) and the page will load as expected.