This article is about a character or characters with no official name or descriptor.
For more information see Help:Nameless characters.
The pisser is a human from the Generation One continuity family.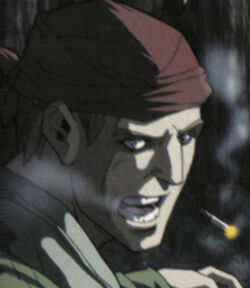 The pisser is a South American rebel soldier under the command of a man known only as The General. He really shouldn't have had that fifth Mountain Dew.
Note: "The pisser" is a fan-coined name (obviously). The soldier was not named in his one and only appearance.
Fiction
Dreamwave Comics
The pisser was assigned to night patrol in the depths of the jungle, along with Manny. Despite Manny's warnings, the pisser lit up a cigarette, alerting the Lazarus-controlled Megatron to their presence. As the pisser turned his back on Manny to micturate, Manny was silently squooshed in Megatron's giant metal fist. The pisser turned to find his friend's mangled corpse, only to be fatally trod upon by the Decepticon moments later.
Ad blocker interference detected!
Wikia is a free-to-use site that makes money from advertising. We have a modified experience for viewers using ad blockers

Wikia is not accessible if you've made further modifications. Remove the custom ad blocker rule(s) and the page will load as expected.