Powerhug is a very straight-forward Maximal who has nothing to hide. He always speaks the truth, even if it hurts. He talks in a Kyushu dialect for some unknown reason, but it rarely bothers his teammates. Powerhug tends to be a bit clumsy at times, but never enough to endanger the other Insectrons. He supposedly has a score to settle with the Autorollers after accepting a defeat in battle many years ago.
Fiction
Beast Wars II and Neo animation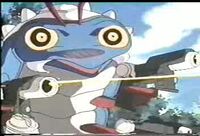 Beast Wars II manga
Toys
Notes
The name Powerhug is quite appropriate, as his toy's main gimmick in humanoid mode bears an uncanny resemblance to hugging.
External links