The name or term Predacon refers to more than one character or idea. For a list of other meanings, see Predacon (disambiguation).
The Predacons are a Decepticon subgroup in the Transformers Animated continuity family.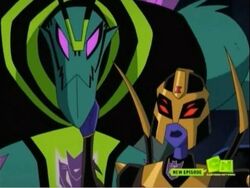 The Predacons are some techno-organic Transformers namely Blackarachnia and Waspinator. Each of them transforms into an arthropod. And yet they manage not to get squished.
Fiction
Transformers Animated
Wasp was abducted to Dinobot Island by Swoop, where he met Blackarachnia, who offered to make him techno-organic just like herself so that he can fight the Autobots. She infused him with a wasp's DNA and transformed Wasp into Waspinator. Predacons Rising
Notes

You left a piece out!
---
This article is a stub and is missing information. You can help Teletraan I: The Transformers Wiki by expanding it.
Ad blocker interference detected!
Wikia is a free-to-use site that makes money from advertising. We have a modified experience for viewers using ad blockers

Wikia is not accessible if you've made further modifications. Remove the custom ad blocker rule(s) and the page will load as expected.