This article is about the Autobot Micromaster subgroup from Universe. For the subgroup from Generation One, see Protectobot (G1).
The Protectobots are a Micromaster sub-group of the Autobots from the Universe conflict.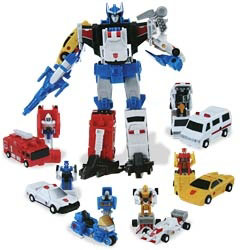 Very little is known about the personality of these Protectobots, or even what universe they originally hailed from. Their relation to any other Protectobots is currently unknown.
The Protectobots consist of:
All six can combine to form Defensor.
Fiction
Universe

I want to tell you about the Transformers!
---
This character article is a stub and is missing information on their fictional appearances. You can help Teletraan I: The Transformers Wiki by expanding it.
Toys
The Universe Micromaster Protectobots are a very slight redeco of the Generation One Sixturbo team. The six individual members were packaged separately, available originally as exclusives to Kay-Bee stores, but later appeared in Sears stores during the Christmas season (Kay-Bee partnered with Sears, a chain that usually doesn't have a toy department), as well as being available online at K-Mart's web site.
Ad blocker interference detected!
Wikia is a free-to-use site that makes money from advertising. We have a modified experience for viewers using ad blockers

Wikia is not accessible if you've made further modifications. Remove the custom ad blocker rule(s) and the page will load as expected.