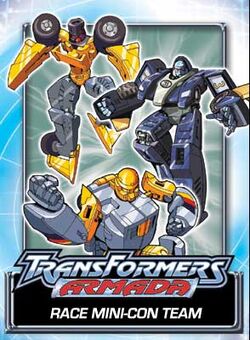 The Race Mini-Con Team are a trio of super-fast speedsters, but their real strength lies in their combined form; the powerful Skyboom shield, possibly the only thing that can stand up to the destructive power of the Star Saber sword or the Requiem Blaster cannon.
When possessed by the Decepticons, their natures are sometimes twisted to evil, turning them into the Road Assault Mini-Con Team.

The Race Mini-Con Team is composed of
Ad blocker interference detected!
Wikia is a free-to-use site that makes money from advertising. We have a modified experience for viewers using ad blockers

Wikia is not accessible if you've made further modifications. Remove the custom ad blocker rule(s) and the page will load as expected.