Raoul is a human in the Generation One continuity family.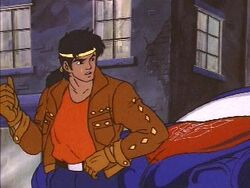 Raoul is a break-dancing street punk carjacker with a bandana, a mullet-ponytail, a rhinestone-studded leather jacket and a heart of gold.
Man, the 80s sucked.
Fiction
The Transformers cartoon
Voice actor: Michael Chain (English), Kenyū Horiuchi (Japanese)
Raoul mistook Tracks for an ordinary car that he attempted to steal, but then helped Tracks thwart a Decepticon plot to invade New York City using remote control vehicles. Make Tracks
Raoul would run across Tracks and the Decepticons again, when he and his posse, the "Bop Crew", ended up in the middle of a Decepticon scheme that sought to brainwash humans into building, uh, something using the totally awesome tunes played in the nightclub Dancitron. (Those tunes being "Cold Slither" and big band music, because the Charleston was totally all the rage in the 80s.) Auto-Bop
Notes
In his second appearance in the show, "Auto-Bop", his skin is a lighter shade than when he first appeared in "Make Tracks". Michael Jackson Syndrome, anyone?
Ad blocker interference detected!
Wikia is a free-to-use site that makes money from advertising. We have a modified experience for viewers using ad blockers

Wikia is not accessible if you've made further modifications. Remove the custom ad blocker rule(s) and the page will load as expected.