Rav is a Maximal from the Beast Era portion of the Generation One continuity family.
Have you seen me?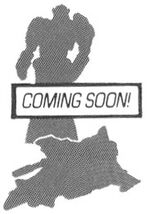 This character needs some sort of visual representation. If you have one, please replace this.
Rav is a reformatted ancient task drone who was found by Nightscream. As one of the Deployers, he is capable of quick transformation abilities. He's a quiet scout with a penchant for singing musically to Nightscream, because Nightscream wasn't annoying enough.
Fiction
Universe: The Wreckers

I want to tell you about the Transformers!
---
This character article is a stub and is missing information on their fictional appearances. You can help Teletraan I: The Transformers Wiki by expanding it.
Toys
Beast Machines
Rav is a red and yellow mechanical bird. He features a quick-change transformation into a "crossbow" mode, featuring a pair of spring-loaded missile launchers.
All three Deployers were given "running change" redecoes. This version of Rav is blue and navy blue, and retains all his original features.
Notes
The running-change redecoes of the Deployers were originally meant to be renamed as new characters, but ultimately came out with their original names. What happened is unknown, but the name for the Rav redeco "Chro" (or sometimes "Cro") made it to "canon" via retcon in the 3H Wreckers comics.
Rav's bio makes a veiled reference to the ancient Autobot Beta.
External Links
Ad blocker interference detected!
Wikia is a free-to-use site that makes money from advertising. We have a modified experience for viewers using ad blockers

Wikia is not accessible if you've made further modifications. Remove the custom ad blocker rule(s) and the page will load as expected.