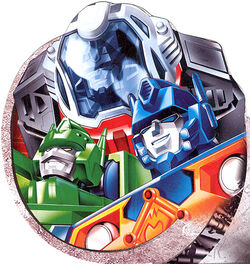 The Recon Mini-Con Team (also known as the Mini-Con Data Retrieval Team) originally hail from Gigantion the Giant Planet, but have since joined Vector Prime in his journey to preserve the fabric of time and space. Now on Earth, they have formed a deep friendship with the human kids Coby, Bud and Lori.

The Recon Mini-Con team consists of...
Japanse name: Micron Team
Toys
Cybertron
Recon Mini-Con Team (Scout-Class, 2005)
Japanese ID number: GC-07
This mold-set was also used to make the Noble Force Mini-Con Team, and the Micron Booster Mini-Cons Bit, Plier and Socket. Micron Galaxy versions of each member were sold in individual boxes as candy toys by Kabaya.
Shadow Recon Mini-Con Team (Scout-Class, 2006)
Trivia/Notes
Ad blocker interference detected!
Wikia is a free-to-use site that makes money from advertising. We have a modified experience for viewers using ad blockers

Wikia is not accessible if you've made further modifications. Remove the custom ad blocker rule(s) and the page will load as expected.