Red Spot is a member of G.I. Joe from the Generation One continuity family.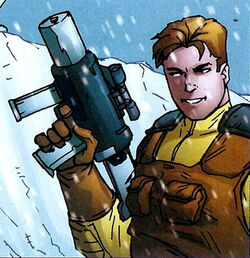 Red Spot, a.k.a. Michael P. Ritchie, is a huge geek. Inspired by science fiction movies, he built his first laser device at nine, and he's been cobbling together death rays every since. But he's an Aikido black belt, a member of G.I. Joe, and goes on dates with girls, making him the envy of his basement-dwelling brethren.
Fiction
Devil's Due G.I. Joe vs. the Transformers continuity
Red Spot accompanied the Laser Squad on a G.I. Joe mission to the Himalayas of Tibet to stop the forces of Cobra-La and Unicron. Saving their teammates from certain doom, Red Spot, Flash and Sci-Fi destroyed Monstructor's head, forcing the giant to dis-assemble. Black Horizon, Part 2
External Links
Ad blocker interference detected!
Wikia is a free-to-use site that makes money from advertising. We have a modified experience for viewers using ad blockers

Wikia is not accessible if you've made further modifications. Remove the custom ad blocker rule(s) and the page will load as expected.