Ad blocker interference detected!
Wikia is a free-to-use site that makes money from advertising. We have a modified experience for viewers using ad blockers

Wikia is not accessible if you've made further modifications. Remove the custom ad blocker rule(s) and the page will load as expected.
Red Spot is a member of G.I. Joe from the Generation One continuity family.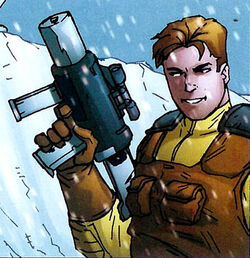 Red Spot, a.k.a. Michael P. Ritchie, is a huge geek. Inspired by science fiction movies, he built his first laser device at nine, and he's been cobbling together death rays every since. But he's an Aikido black belt, a member of G.I. Joe, and goes on dates with girls, making him the envy of his basement-dwelling brethren.
Fiction
Devil's Due G.I. Joe vs. the Transformers continuity
Red Spot accompanied the Laser Squad on a G.I. Joe mission to the Himalayas of Tibet to stop the forces of Cobra-La and Unicron. Saving their teammates from certain doom, Red Spot, Flash and Sci-Fi destroyed Monstructor's head, forcing the giant to dis-assemble. Black Horizon, Part 2
External Links