This is a disambiguation page: a list of articles associated with the same title. If an internal link referred you to this page, you may wish to change the link to point directly to the intended article.
Reverb is an Autobot from the Dark of the Moon portion of the live-action film series continuity family.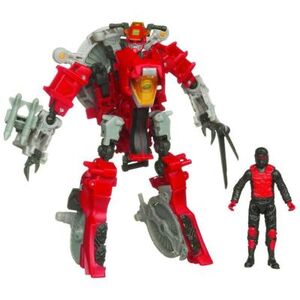 Reverb and his human partner engage in recon operations and direct operations against fortified Decepticon positions. Hovering silently past enemy lines and taking out guards and artillery is their specialty. Fast and dangerous, Reverb and Sergeant Detour are critical members of the Autobot team.
Notes
Sergeant Detour / Reverb (Human Alliance Basic, 2011)
Reverb transforms into a red Hover bike that Sgt. Detour can ride. He can also transform into a 3-rotor fan, what use it is as a weapon is beyond comprehension. In humanoid mode, his head design is a lot like Wreck-Gar. It is moulded to look like the front of his hover bike. He has missiles mounted on his right arm, and a blade on his left.
Notes
The reason why he shares the same partner with Leadfoot is unknown.
Ad blocker interference detected!
Wikia is a free-to-use site that makes money from advertising. We have a modified experience for viewers using ad blockers

Wikia is not accessible if you've made further modifications. Remove the custom ad blocker rule(s) and the page will load as expected.