This article is about the McDonald's exclusive toy/character. For the company that released many Transformers DVDs, see Kid Rhino.
Rhino is a Maximal in the Beast Wars portion of the Generation One continuity family.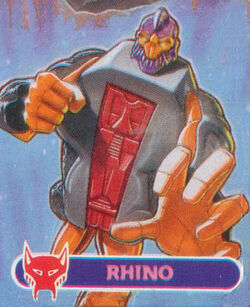 Rhino turns into a rhino. No, he's not Rhinox.
A Maximal ground soldier, his main attack is a body-ramming slam. Prairie fighting is his specialty, but he's not good in confined spaces.
Toys
Rhino (McDonald's Happy Meal toy, 1996)
Part of the first McDonald's Beast Wars promotion, Rhino transforms into a rhinoceros. His head bears a striking resemblance to the "mutant head" of the original Rhinox toy.
Notes
External links
Ad blocker interference detected!
Wikia is a free-to-use site that makes money from advertising. We have a modified experience for viewers using ad blockers

Wikia is not accessible if you've made further modifications. Remove the custom ad blocker rule(s) and the page will load as expected.