Rick Astley is a human from the real world.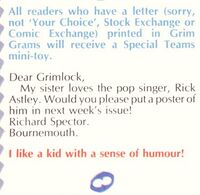 Rick Astley is a pop singer. According to Grimlock, people who ask for a poster of him to be printed in next week's issue have a sense of humour, which is something he appreciates. Legion of the Lost!
He's never going to give you up, or let you down, or run around and desert you. Nor will he make you cry, say goodbye, or tell a lie and hurt you.
External links
Ad blocker interference detected!
Wikia is a free-to-use site that makes money from advertising. We have a modified experience for viewers using ad blockers

Wikia is not accessible if you've made further modifications. Remove the custom ad blocker rule(s) and the page will load as expected.