Ridge is an Autobot from the Transformers: Rise of the Chevy Autobots portion of the live-action movie continuity family.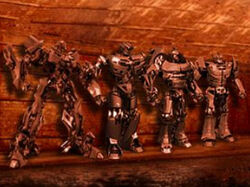 Ridge is an Autobot, probably a Chevy Autobot, that transforms into a Chevy Avalanche of an unknown color. He is partnered with Flash.
Fiction
Bumblebee's Mission Log
Ridge and Flash were the first Autobot scouts to arrive on Earth. When they detected the All Spark, they signaled for backup (Bumblebee and Sphinx), but when the other Autobots arrived, the Decepticons were waiting at the rendezvous site, and Ridge and Flash were nowhere to be found. Rise of the Chevy Autobots

I want to tell you about the Transformers!
---
This character article is a stub and is missing information on their fictional appearances. You can help Teletraan I: The Transformers Wiki by expanding it.
External links
Ad blocker interference detected!
Wikia is a free-to-use site that makes money from advertising. We have a modified experience for viewers using ad blockers

Wikia is not accessible if you've made further modifications. Remove the custom ad blocker rule(s) and the page will load as expected.