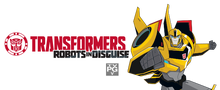 Transformers: Robots in Disguise, not to be confused with the English language dub of Car Robots, is a 2015-2016 animated television series. It is part of the Transformers Prime franchise. It was originally planned to premiere on Hub Network, but within less than a week before the channel's rebrand as Discovery Family, it was announced that the series would move to Cartoon Network since Transformers: Animated.[1] According to Hasbro Studio's official site it will have 78 episodes and be in production until 2016. A second season of the series has been confirmed to be in production where it will feature the return of surviving characters from the previous series. It will run for 16 episodes. On November 17, 2015, it was announced Transformers: Robots in Disguise will end after two seasons and a movie rather than the three seasons that were planned. At the BotCon 2016 John Warden confirmed a third season for Fall 2016.[2]Later the new season was delayed to January 2017 and later for Spring 2017. The third season will be subtitled Combiner Force.
Plot
Years after the events of Predacons Rising, Bumblebee is summoned back to Earth to battle a new generation of Decepticons that escaped from the prison ship Alchemor and assembles a rogue team of young Autobots that includes a rebel "Bad Boy Bot," an Elite Guard cadet, a bombastic Dinobot, and a hyperactive Mini-Con. Bumblebee will be experiencing visions of Optimus Prime.
Episode List
Main article: List of Robots in Disguise (2015) episodes
Characters
Autobots
Main
Others
Decepticons
Main
Others
Thirteen
Humans
Main
Others
Home Media Release
Single Volume Release
Vol. No.
DVD Vol. Name/Title
Episodes
Release Date

Region 1 (US)

Release Date

Region 2 (UK)

Release Date

Region 4 (AUS)

01
A New Mission
1 - 7 (UK) 1 - 5 (US) 1 - 7 (AUS)
October 27, 2015
March 28, 2016
September 01, 2015
02
Rumble in the Jungle
8 - 13 (UK)
TBA
May 23, 2016
TBA
03
The Champ
14 - 20 (UK)
TBA
TBA
TBA
04
Optimus Returns
21 - 26 (UK)
TBA
September 04, 2017
TBA
Complete Season Release
Complete Season.
DVD Name/Title
Episodes
Release Date

Region 1 (US)

Release Date

Region 2 (UK)

Release Date

Region 4 (AUS)

01
Robots In Disguise: Season 1
1 - 26 (UK) 1 - 26 (US) 1 - 26 (AUS)
May 10, 2016
TBA
September 01, 2015
02
Robots In Disguise: Season 2
27 - 45 (UK) 27 - 45 (US) 27 - 45 (AUS)
TBA
TBA
TBA
03
Robots In Disguise: Season 3
TBA
TBA
TBA
Notes
Jack, Raf & Miko Are Mentioned By Bumblebee In The Episode Portals.
There Seems To Be Some Corruption In Cybertrons New Government Which Optimus Intends To Investigate.
All Of The Escaped Alchemor Decepticon Prisoners Including Steel Jaw Have Been Defeated And Returned To Stasis At The End Of Decepticon Island: Part 2.
Starscream Returned in Ep's 17 - 19 of Season 2, But In A New Colour Scheme Similar To His G1 Counterpart.
New Decepticons will appear in Season 3 that can combine into bigger ones named: Galvatronus & Menasor.
Season 3: Combiner Force Is To Contain 26 Episodes.
Videos
Source
Ad blocker interference detected!
Wikia is a free-to-use site that makes money from advertising. We have a modified experience for viewers using ad blockers

Wikia is not accessible if you've made further modifications. Remove the custom ad blocker rule(s) and the page will load as expected.