The name or term Rollbar refers to more than one character or idea. For a list of other meanings, see Rollbar (disambiguation).
Rollbar is an Autobot from live-action film series continuity.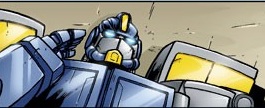 Rollbar is the happiest when he's following orders. He is uncomfortable with improvisation and terrified of being put into a leadership position. Despite that, he is a highly skilled navigator, and he has a keen mind for tactics, making him an invaluable asset for his commanders. He is extremely strong and tough — trough he prefers not to fight, he can be challenged by Decepticons many times he's size.
Fiction
Titan Magazines comics continuity

You left a piece out!
---
This article is a stub and is missing information. You can help Teletraan I: The Transformers Wiki by expanding it.
Toys
Revenge of the Fallen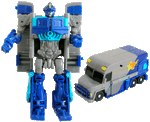 Rollbar turns into a blue and silver delivery truck which has an image of a Red Bull. His robot mode features some cyan parts.
This mould was repainted to make Revenge of the Fallen Wideload and a cancelled figure, Crosshairs.
Age of Extinction
For further information, see: Chevrolet Sonic RS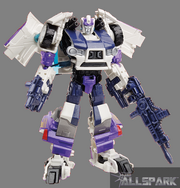 Ad blocker interference detected!
Wikia is a free-to-use site that makes money from advertising. We have a modified experience for viewers using ad blockers

Wikia is not accessible if you've made further modifications. Remove the custom ad blocker rule(s) and the page will load as expected.