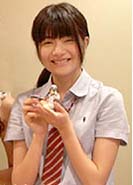 Satomi Akesaka (明坂 聡美 Akesaka Satomi) is a Japanese voice actress born on January 2, 1988 in Saitama, Japan.
In addition to playing the role of Atari Hitotonari in the Kiss Players radio show, she also named and designed the color schemes for Sundor and Stardust, whose voices she provides in the radio series.
Kiss Players
Transformers Animated
External links
Ad blocker interference detected!
Wikia is a free-to-use site that makes money from advertising. We have a modified experience for viewers using ad blockers

Wikia is not accessible if you've made further modifications. Remove the custom ad blocker rule(s) and the page will load as expected.