This article is about the live-action film character. For the Generation 1 Minibot, see Seaspray (G1).
Sea Spray is an Autobot from the live-action film series continuity family.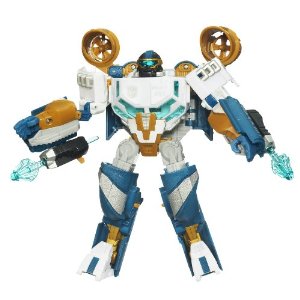 Attention to any Decepticons seeking refuge away from land, in attempt to escape Autobot threat. You might think the Autobot's control extends only overland, but Sea Spray tends to ambush near the shore, with Breacher watching his back. Poor Crankstart found this out the hard way, so just ask him.
Fiction
Unite for the Universe

I want to tell you about the Transformers!
---
This character article is a stub and is missing information on their fictional appearances. You can help Teletraan I: The Transformers Wiki by expanding it.
Toys
Transformers (2010)
Seaspray (Voyager, 2010)
Accessories: 2 Harpoon Launchers
The Autobot in question transforms into a hovercraft of human design. It's ramp allows the Autobot to carry smaller Autobot "scouts" with him. According to Crankstart's report, he tends to carry his partner, Breacher, with him. In both modes, he carries two harpoon launchers. His appearances to be heavily influenced by a human scuba diver, what with retractable water propulsion devices (basically, flippers) on his feet, along with what look like two tanks on his back and tubes on his head.
Notes
His head is modeled to like a diving mask.