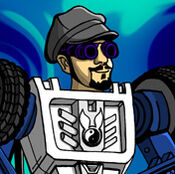 Shaun Knowler is a Canadian artist, writer and editor. Along with Josh van Reyk, both are known as the co-creators of the Mosaic project.
In December of 2008, it was announced that Knowler and Van Reyk will write IDW's Transformers Spotlight: Jazz. This marks the writing partners' first professional work on an IDW Transfomers comic. Spotlight Jazz is scheduled for a March 2009 release.
External links
Ad blocker interference detected!
Wikia is a free-to-use site that makes money from advertising. We have a modified experience for viewers using ad blockers

Wikia is not accessible if you've made further modifications. Remove the custom ad blocker rule(s) and the page will load as expected.