The Silverado is a mass-produced Autobot bodyform from the Transformers: Rise of the Chevy Autobots portion of the Movie continuity family.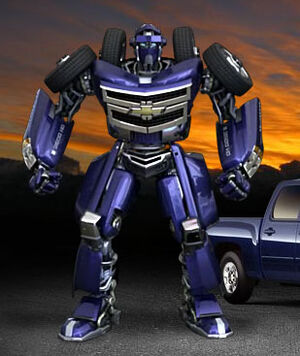 The Silverado-type Chevy Autobot is a big brawler with massive strength. It much prefers to get in and smash opponents with his bare hands than use any fancy-schmancy weapons or strategy.
It transforms into a Chevrolet Silverado. (whip-crack!)
External links
Ad blocker interference detected!
Wikia is a free-to-use site that makes money from advertising. We have a modified experience for viewers using ad blockers

Wikia is not accessible if you've made further modifications. Remove the custom ad blocker rule(s) and the page will load as expected.