The name or term Skydive refers to more than one character or idea. For a list of other meanings, see Skydive (disambiguation).
Skydive is an Autobot from the video game portion of the live-action movie continuity family.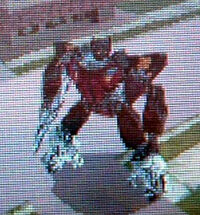 Skydive is an Autobot that transforms into an F-22 Raptor! He looks kinda like some other guy they resembled.
Games
Transformers: Autobots

Note:
While standing in the video game aisle of their local Target store, owners of the Nintendo DS can direct-download a demo version of the
Transformers: Autobots
/
Transformers: Decepticons
video game. If the Nintendo DS has a
Transformers: Autobots
cartridge inserted, the screen will say "Character Unlocked," and henceforth the player will be able to select Skydive from the vehicle selection screen. He can also be unlocked by earning 2500 tokens in the AllSpark Wars online game. Unlike the other selections, Skydive's colors can not be customized.
Revenge of the Fallen: The Game

I want to tell you about the Transformers!
---
This character article is a stub and is missing information on their fictional appearances. You can help Teletraan I: The Transformers Wiki by expanding it.

Revenge of the Fallen: The Game
Toys
Superion (Combiner, 2009)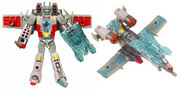 Skydive comes with the other Aerialbots in the Superion multi-pack. He has the same mold as Fireflight.
Notes
External Links
Ad blocker interference detected!
Wikia is a free-to-use site that makes money from advertising. We have a modified experience for viewers using ad blockers

Wikia is not accessible if you've made further modifications. Remove the custom ad blocker rule(s) and the page will load as expected.