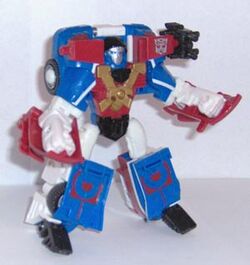 Smokescreen is among the ranks of Transformers who would have been caught up in the interdimensional war between the Children of Primus and the Minions of Unicron.
It is unknown whether he is related to other Smokescreens.
Toys
Universe
Smokescreen Vs Drench (Super-Con, 2003)

Accessories: Engine and missile
Smokescreen was originally planned to be released as a Target exclusive Universe "Battle in a Box" set with Drench. He would be a blue and white redeco of Armada Powerlinx Hot Shot, and would have come together with a redecoed Mini-Con Jolt. He was eventually canceled.
External Links
Ad blocker interference detected!
Wikia is a free-to-use site that makes money from advertising. We have a modified experience for viewers using ad blockers

Wikia is not accessible if you've made further modifications. Remove the custom ad blocker rule(s) and the page will load as expected.