Speed-Bot is a character in the Go-Bots continuity.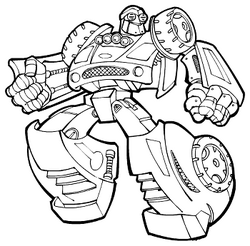 Speed-Bot is the fastest of all the Go-Bots, and can take on a wide variety of speedy vehicle forms. His incredible speed is both his greatest strength and his greatest weakness, as this young 'Bot has a tendency to jump into action before completely thinking things through.
Fiction
Go-Bots
Cartoon
Voice actor: Ted Cole
Speed-Bot was chosen by the Go-Bot Council as "the fastest" of the available Go-Bots to join the Earth's Go-Bot Team on their mission to help Earth.
Toys
Playskool Go-Bots
Speedbot (Big Adventures, 2002)
Speed-Bot II (Deluxe Go-Bot, 2003)
The first Formula-1 Go-Bot toy. Though it was released alongside the blue-and-white Mirage-Bot, the mold is obviously intended to be Speed-Bot. He came with Kid-Bot and Gas-Bot figures. Released in Japan as Paul Jr. Recolored as Aero-Bot Racer and Fast-Bot.
Speed-Bot (Ultra Go-Bot, 2003)
Big red dragster with a deploying parachute.
Speed-Bot (Video Go-Bot, 2003)
This slight redeco of the original Speedbot toy came with a video cassette of the first 2 episodes of the Go-Bots cartoon.
The second Deluxe mold. One of the most poseable of the Go-Bots toys. He came with a new driver figure and a gas pump figure. Recolored as Mototron (Racer).
Speed-Bot (Secret Shield, 2004)
The first new Basic mold for Speed-Bot, released with the "Secret Shield" assortment.
Speed-Bot (Toys R Us, 2004)
A TRU-exclusive toy in chrome red, released with TRU Aero-Bot. This was actually recolored from the modified Invisibility Force mold that didn't see release until the next year.
Speed-Bot (Basic Go-Bot, 2005)
This red "muscle car" was recolored from the at-the-time-unreleased Racer-Bot ALPHA toy.
Speed-Bot (Invisibility Force, 2005)
Made with clear red plastic, this is one of the "Invisibility Force" toys that was intended for release in 2004, but was held back until after the line was cancelled in 2005. This toy was actually slightly remolded from the original Speedbot toy, with different spoiler/feet pieces.
Another new Deluxe mold, this was also slated for a 2004 release, but ended up never being released in the US. It did, however, make it out in the UK in 2005. He came with a new driver figure and gas pump figure.
External links
Ad blocker interference detected!
Wikia is a free-to-use site that makes money from advertising. We have a modified experience for viewers using ad blockers

Wikia is not accessible if you've made further modifications. Remove the custom ad blocker rule(s) and the page will load as expected.