Ad blocker interference detected!
Wikia is a free-to-use site that makes money from advertising. We have a modified experience for viewers using ad blockers

Wikia is not accessible if you've made further modifications. Remove the custom ad blocker rule(s) and the page will load as expected.
"
You've got the touch. You've got the poweeer. YEAH!
"

—Stan; opening lyrics from "The Touch"
:
Stan Bush is a both a real-life musician and a human character in the Generation One continuity family.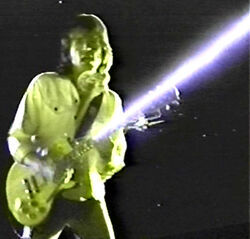 Stan Bush is an American musician who performed the original songs "Dare" and "The Touch" for The Transformers: The Movie, and subsequently appeared in a music video for the latter song.
Years later, Bush was tapped to write and perform an original song for the Transformers fan convention, BotCon, which was called "Ground Zero".
He was a special guest at BotCon 1997, where he performed a live concert with fellow The Transformers: The Movie musical alumnus Vince DiCola for the attendees. An exclusive two-disk CD featuring songs by both Bush and DiCola was available at this same convention. Ten years later he was a guest at BotCon 2007, where he performed "'Til All Are One", which was based upon "Ground Zero".
Fiction
The Transformers cartoon
Actor: Himself
At an undetermined time period following the creation of the Headmasters and Targetmasters and the seeming defeat of Galvatron and Scorponok, Powermaster Optimus Prime spent a good deal of time relating Transformers stories to the human schoolboy Tommy Kennedy.
After a series of stories wherein he described the events of the battle with Unicron, Optimus Prime had to depart to attend an interstellar peace conference in the midst of a barrage of questions from Tommy. As he was blasting off, Prime declared "But until I return, I leave you with 'The Touch'!"
Following this, the music video for "The Touch" began, although how Tommy was able to view it in the barren wasteland where his meetings with Prime typically took place is unknown. Season 5
Note:
As Stan Bush could not have written the song for the 1986 theatrical
The Transformers: The Movie
within the context of the cartoon timeline (as the events of the movie had not happened at that point in continuity), it is possible that the song was simply a general release that Prime was personally fond of.
Another possibility is that a fictionalized film account of the events surrounding the battle with Unicron was created sometime after the year 2005, and that Stan Bush's music video was produced to accompany that feature. This theory is not out of the realm of plausibility; in the UK comics, resident letter answerer Grimlock reviewed a Transformers film in an article entitled Film 2006 With Grimlock.
Within the music video itself, Stan Bush's guitar is shown to fire lasers via special effects. However, it is possible that Bush's guitar could in fact fire lasers in cartoon continuity. I mean, why not?
Convention appearances
External links
[http:/www.stanbush.com Official Site of Stan Bush]