Starcloud is an Autobot Micromaster form the Zone portion of the Generation One continuity family.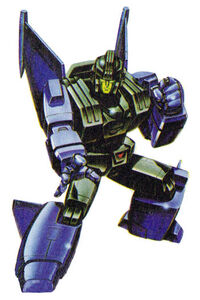 Starcloud is a member of the Jet Patrol Team. He is presumably childlike and precious and suchlike.
Fiction
Zone OAV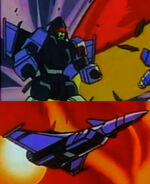 Starcloud and Windrim narrowly escape destruction when Menasor throws his explosive shield at the Zone base. They are subsequently part of the Jet Patrol Team's group actions against the Nine Great Demon Generals, including rescuing crew of the Rocket Base from BlackZarak and pursuing the Decepticons to Earth. Zone OVA
Zone manga
Toys
Zone
Jet Patrol Team (Micro Transformer team, 1990)
Japanese ID number: C-336
Starcloud is identical to the Decepticon Air Strike Patrol member Storm Cloud, transforming into a Dassault Rafale fighter jet. He was only available in a complete set with his teammates Nightflight, Whisper and Windrim.
This mold was also used to make Skyhopper.
External links
Ad blocker interference detected!
Wikia is a free-to-use site that makes money from advertising. We have a modified experience for viewers using ad blockers

Wikia is not accessible if you've made further modifications. Remove the custom ad blocker rule(s) and the page will load as expected.