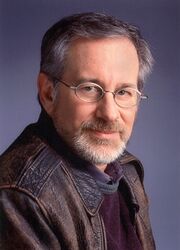 Steven Spielberg (December 18, 1946- ) is an acclaimed American director and producer. He is the executive producer of Dreamworks's live action Transformers movie. He has this weird fetish for giant beings destroying things.
According to interviews he has given, he and his children are fans of the Transformers. Both the fiction and the toys.
External links
Ad blocker interference detected!
Wikia is a free-to-use site that makes money from advertising. We have a modified experience for viewers using ad blockers

Wikia is not accessible if you've made further modifications. Remove the custom ad blocker rule(s) and the page will load as expected.