Strong Panda is a Beastformer in the Generation One continuity family.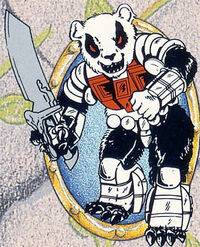 Strong Panda is one of the Autobot Beastformers fighting a war on the planet Beest. He was born in the East Yutoranta grasslands. His role in the Autobot Beastformer forces is a combat medic. He also holds the rank of King of East Yutoranta over Emperor Laser Cock (teehee). Why a King is out on the battlefield acting as a medic isn't explained.
English name: Panzer Panda
Toys
Strong Panda (Beastformer, 1987)
Beast ID number: 53
Strong Panda is an anthropomorphic giant panda in high-tech white and red armor. He comes with his "Strong Aid" sword. He has one of three rubsigns on his chest, revealing the elemental power of fire, water, or wood.
External links