The Super Car Patrol is a team of Autobot Micromasters from the Zone portion of the Generation One continuity family.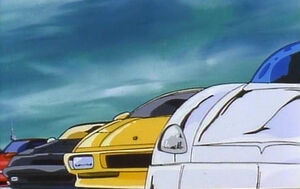 The Super Car Patrol Team are the "Cyber Warriors" of the Micromaster army, computer experts who invented Zone City. The team consists of
Fiction
Zone OVA/manga
Toys
Zone
Super Car Patrol Team (Micro Transformer team, 1990)
Japanese ID number: C-333
This set is a redeco of the Decepticon Sports Car Patrol. It was only available as a complete set of four Micromasters who transform into sports cars.
Return of Convoy
Super Car Patrol Team (Micro Trailer team, 1991)
Japanese ID number: C-375
The Super Car Patrol Team was released a year later without alteration as part of the Return of Convoy line. The only difference is with the inclusion of Micro Trailer # 12, an accessory that uses a spring-loaded mechanism to launch Micromasters, and can also be carried by Sky Garry or stored within Grandus.

You left a piece out!
---
This article is a stub and is missing information. You can help Teletraan I: The Transformers Wiki by expanding it.
Ad blocker interference detected!
Wikia is a free-to-use site that makes money from advertising. We have a modified experience for viewers using ad blockers

Wikia is not accessible if you've made further modifications. Remove the custom ad blocker rule(s) and the page will load as expected.