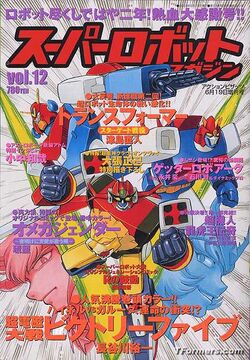 Super Robot Magazine was a Japanese comic magazine pubished by Futabasha. In 2003, it published several chapters of a Transformers story called "The Stargate War" beginning in #11, but the magazine went under before the story ended.
In 2006-07 TakaraTomy officially placed that story within the Japanese Generation One cartoon timeline, moving its events to the late 90s and using its unresolved cliffhanger to fit the 2000 Car Robots in the subsequent gap.
Issues featuring The Stargate War
Super Robot Magazine #11
Super Robot Magazine #12
Super Robot Magazine #13
Super Robot Magazine #14
External Links
Ad blocker interference detected!
Wikia is a free-to-use site that makes money from advertising. We have a modified experience for viewers using ad blockers

Wikia is not accessible if you've made further modifications. Remove the custom ad blocker rule(s) and the page will load as expected.