Sweet Pet is an alien character in the Generation One continuity family.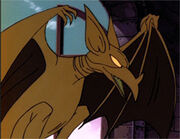 Sweet Pet is the name by which Mara-Al-Utha, aka the Red Wizard, called the winged creature that reported to him on the arrival of Grimlock and Daniel Witwicky in Menonia. Madman's Paradise
Notes
Yet another of the vast assortment of noises and voices done by Frank Welker.
Ad blocker interference detected!
Wikia is a free-to-use site that makes money from advertising. We have a modified experience for viewers using ad blockers

Wikia is not accessible if you've made further modifications. Remove the custom ad blocker rule(s) and the page will load as expected.