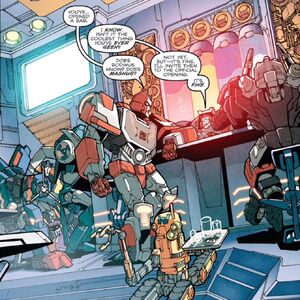 Swerve's Bar, simply known as Swerve's, is an in house bar on board The Lost Light run by Swerve. The Engex distillery was discovered by Skids and Swerve during the Sparkeater incident. Swerve soon set about turning it into a bar and opened it to the crew, without Ultra Magnus' permission.
"
Sign at the entrance of Swerve's.
"

—No Guns, no swords, no briefcases.
Fiction
IDW Generation 1 Continuity
More Than Meets The Eye

You left a piece out!
---
This article is a stub and is missing information. You can help Teletraan I: The Transformers Wiki by expanding it.