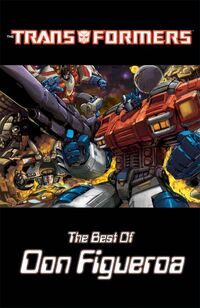 The Best of Don Figueroa is a trade paperback published by IDW Publishing. The TPB consists of reprinted stories penciled by Don Figueroa over his career with the Transformers brand.
Overview
The Best of Don Figueroa compiles material from the Don's work with Dreamwave Productions and IDW Publishing. Also included is a selection of cover/sketch/print art, plus the TPB-exclusive story pages from the Animated Movie adaptation.
Contents
Items of note
This 8-story collection actually spans seven different continuities: The War Within and Generation One stories are within a single continuity.
Four of the stories represent Generation One continuities, though only the two mentioned above are within the same one. Two continuities of the Beast Wars are represented, as well as a story each from the Armada and 2007 movie franchises.
Publishing information
Hardcover: 220 pages
Release date: August 1, 2007
Ad blocker interference detected!
Wikia is a free-to-use site that makes money from advertising. We have a modified experience for viewers using ad blockers

Wikia is not accessible if you've made further modifications. Remove the custom ad blocker rule(s) and the page will load as expected.