The name or term Hub refers to more than one character or idea. For a list of other meanings, see Hub (disambiguation).
The Hub is a television channel, previously a known as "Discovery Kids". The channel relaunched under it's current name on October 10, 2010. Hasbro is responsible for the programming of this channel.
Transformers: Prime has aired on The Hub since November 26, 2010.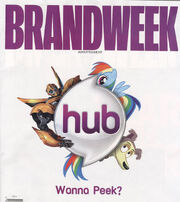 External links
Ad blocker interference detected!
Wikia is a free-to-use site that makes money from advertising. We have a modified experience for viewers using ad blockers

Wikia is not accessible if you've made further modifications. Remove the custom ad blocker rule(s) and the page will load as expected.