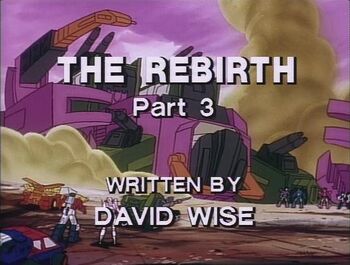 The battle for the Key to the Plasma Energy Chamber comes to an end.

Japanese title: "The Biggest Crisis of the Galaxy"
Detailed synopsis
With the arrival of Scorponok, the Autobots scatter, but Arcee and Daniel are captured. As the Decepticons depart in Scorponok, Optimus Prime orders the Autobots to move out. However, Spike insists on letting him and Cerebros remain behind. Though Optimus believes that Spike is their only hope if Galvatron should activate the Plasma Energy Chamber, he relents.
On Cybertron, Ultra Magnus's forces are fighting off the Decepticons, but the tide is turned when the Headmasters and Targetmasters arrive, allowing Galvatron to claim victory. Scourge and Cyclonus explain what happened on Nebulos, but Galvatron is so disgusted that he's on the verge of reducing all of them to scrap. However, Zarak explains that he has the Key, and has control over Scorponok. Though still disgusted, Galvatron agrees to at least talk, while ordering a new rocket he installed on Cybertron to be activated. They prepare to torture Daniel, but Arcee gives them the Key.
Heading for Cybertron, Optimus receives a vision from the spirit of Alpha Trion, telling the Autobot leader to preserve the key at all costs. However, Hot Rod and Kup inform Prime that Cybertron has dispappeared. Realizing Galvatron's intentions, Optimus orders the shuttle to head for Earth. On Cybertron, which has entered the Solar system, Galvatron reveals that he intends to activate the Plasma Energy Chamber, and let the energy spread out and cause the sun to nova, destroying Earth and Cybertron. On Nebulos, Spike and Cerebros locate the Hive's city, and begin using long abandoned controls to begin modifying the city.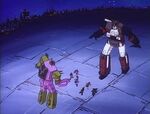 Landing on Cybertron, the Autobots discover that their comrades have had their power packs removed, and their lives will end if they do not get immediate Energon. The Nebulans think that they should just destroy the Key, lest the released energy reach Nebulos. However, Prime remains adamant, explaining that Vector Sigma has a plan. Unwilling to take the risk, the Nebulans simply abandon the Autobots and head to destroy the key, pursued by the weaponless and headless Autobots. However, they are attacked by the Decepticons, who are preparing to leave. Just then, Spike and Cerebros arrive in the Hive's converted city, which transforms into Fortress Maximus, with Spike and Cerebros as its components. Fort Max engages Scorponok, causing the Decepticons and the Hive to flee. Spike and the Nebulans deactivate the Plasma Energy Chamber, but not before it sends a wave of energy into the sun.
Working quickly, Spike and the Nebulans begin preparing Vector Sigma to absorb the excess solar energy. Pumping it straight into the supercomputer, it directs the energy into Cybertron's storgate capacitors, resulting in the complete revitalization of Cybertron. As Cerebros reactivates, he begs Spike to deactivate him, no longer wishing to endure the Great War. However, Spike tells him that Cybertron has been revitalized. Optimus declares that the Headmasters and Targetmasters are to become the guardians of Nebulos, and to destroy the Hive's machines. When this is done, Cerebros will become the guardian of Nebulos, and live in peace.
However, Scorponok survived the destruction, and it is obvious that Galvatron and Zarak do not see eye to eye. Galvatron plans to raid hundreds of worlds and destroy Cybertron, then conquer the universe, but Zarak doubts that Galvatron will be the ruler of the galaxy. As the wouldbe tyrants bicker, Nebulos stands free, while Cybertron begins a second Golden Age under the rule of Optimus Prime and the Autobots.
Stats
Original airdate: November 11, 1987
Production number: 6701-3
Decepticons: Galvatron, Scorponok, Cyclonus, Scourge.
Notable quotes
"The Golden Age of Cybertron has come again, Cerebros. Thanks to you and Spike. You don't have to fight anymore."
-- Optimus Prime
"It's a miracle we finally got this flying junkpile of yours stabilized."
"You were the idiot who opened the Plasma Energy Chamber, Galvatron."
"SILENCE! There's much to do. We will attack other planets. We will suck them dry. We will rebuild a planet a hundred times more powerful than Cybertron! And I will rule the galaxy!"
"Who will rule the galaxy?"
"ME! It is my destiny!"
"We shall see, Galvatron. We shall see..."
-- Galvatron and Zarak
"It's good to be together again. Arcee, I just wanna say... Arcee, I... I..."
"You don't have to, Daniel. I feel the same way, too."
-- Daniel and Arcee
"You little creeps! we're stuck being vehicles without our heads!"
--Chromedome, to the Nebulans.
Notes
Cerebros transforms into a miniature version of Fortress Maximus.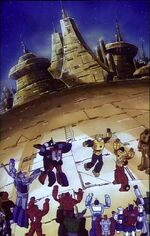 Animation and/or technical glitches
Bumblebee shows up on the Goldenified Cybertron. Not only that, but he shows up right next to Goldbug.
When Spike transforms into Cerebros' head, Cerebros' mouthplate is missing.
When Daniel transforms into Arcee's head at the end of the episode, he's still wearing his exosuit in the shot where he's inside her head.
When Cyclonus captures Optimus and the others, Vortex is miscolored as Blades.
When Prime's shuttle lands on Cybertron, Earth looms in the background. However, the animation cel of the planet has been laid over a series of background buildings instead of behind them, giving the impression that Earth and Cybertron have collided.
When Optimus Prime sees Alpha Trion holding the key to the plasma energy chamber, the key changes shape while he is holding it; it's edged when he's holding it normally and changes into a triangle when he's holding it up.
One of the Aerialbots is shown jumping with Goldbug.
In the final scene on Nebulos, the Headmasters are Optimus's size.
Continuity errors
When Galvatron thinks he's won, Ultra Magnus and the Protectobots attack... including First Aid, who is wielding a gun and firing away with the rest of them. But, didn't First Aid say in "The Ultimate Weapon" that he doesn't believe in fighting and literally won't raise a weapon to save his life? Then again, it is Groove who's the pacifist.
When Ultra Magnus and the Protectobots attack Galvatron, Magnus says "Keep on him men, he's almost finished!" If that's so, why did they stop firing just to gaze at Scorponok if Galvatron was "almost finished" instead of kept firing while they had the chance?
Why not have the Protectobots combine into Defensor? Besides a better shot at overpowering Galvatron, he probably could have fared better against Cyclonus and crew (force field, anyone?).
Shouldn't Cybertron's close proximity to Earth cause the planet to tear itself apart, as it did in "The Ultimate Doom"? Prime seems blissfully unconcerned about it.
Transformers references
Real-world references
Notes
Spike is able to construct a complex, super powerful Transformer single-handedly out of an entire city using alien technology in what may be no more than mere hours. This may be normal for Transformers to do, but Spike...?
This episode introduces the afformentioned introduction of Fortress Maximus, including his robot mode, which was never seen in the animated half of the toy commercial.
Ultra Magnus sure screws up royally when they give him something to do, huh? First he loses the Matrix in Transformers: The Movie, now he lets Cybertron again fall to the Decepticons. He was right about himself just being a soldier and unworthy.
Crosshairs seems to be some impersonation of either Jack Nicholson or Ronald Reagan. Why his voice sounds this way and what point they were trying to make was never revealed.
It is the last episode of Generation One (and fully-animated)!
Spike must have put in some extra college hours or studied Autobot technology too much — he really took notes from Wheeljack, Grapple, and everybody else.
Keywords
(separate by commas and link each one so a page can be created for it if it does not already exist)
External links

Thanks for helping me... pull myself together.
---
This cartoon episode article is a stub and is missing information. You can help Teletraan I: The Transformers Wiki by expanding it.
Ad blocker interference detected!
Wikia is a free-to-use site that makes money from advertising. We have a modified experience for viewers using ad blockers

Wikia is not accessible if you've made further modifications. Remove the custom ad blocker rule(s) and the page will load as expected.