The name or term Thrust refers to more than one character or idea. For a list of other meanings, see Thrust (disambiguation).
Thrust is a Decepticon in the Revenge of the Fallen portion of the live-action film series continuity family.
Thrust, otherwise known as "long-range Decepticon lieutenant", is in charge of the lighter long-range Decepticons. He will usually stay on the battle field as long as his side is winning, but as soon as the odds change he will go coward and run (or fly) away. He loves beating up beings smaller than himself (particularly lowly-armed humans). So, needless to say, he loves being on earth, (when he is winning).
Fiction
Revenge of the Fallen: The Game

I want to tell you about the Transformers!
---
This character article is a stub and is missing information on their fictional appearances. You can help Teletraan I: The Transformers Wiki by expanding it.
Toys
Revenge of the Fallen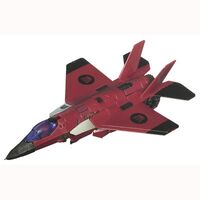 Thrust is a Redeco and minor Retool of Breakaway with a new head resembleing that of another Thrust. He turns into a dark red F-35B lightning II joint strike fighter jet with Decepticon symbols on his wings in place of what could have been retooled turbines. His "Mech Alive" gimmick is that when you spin the open rounded piece on his forearm, the chain gun spins and when you spin the forearm a little cog turns.
Transformers (2010)
Crash Landing Attack (Multi-pack, 2010)
This is a white, black and purple repaint of the previous Thrust figure. He was packaged with a repainted Bumblebee in a Target exclusive Deluxe class 2-pack.